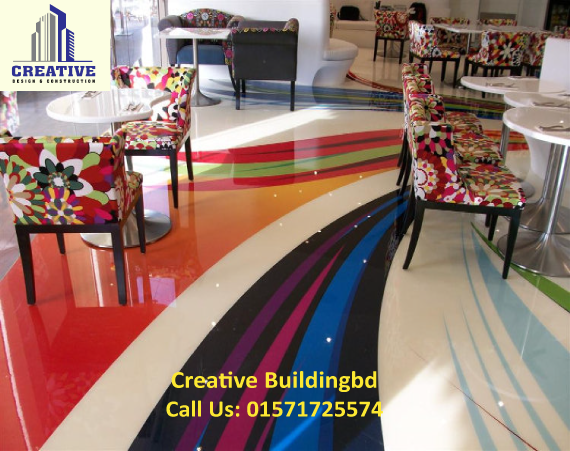 Decorative Epoxy Flooring Bangladesh
Decorative epoxy flooring is the combination of  stunning metallic solution.Different types of  decorative epoxy flooring found in epoxy world but quartz floors, glitter floors and solid-colour flooring are the most popular.
Why you choose

creativebuildingbd

 company?
1. Understand customer requirement:
Different
types of epoxy
company offer you
decorative epoxy flooring . But most of them are not experienced and not perfectly  able to fill up customer requirement. Our strong team member  and expert applicator perfectly complete your floor without delay.
2. Understand floor condition:
While our engineer visit your site they suggest you which type of design perfect for your floor. Normally decorative epoxy floor used in club, restaurant, shopping complex, fitness Centre. If you want to use decorative epoxy floor on factory or store it's not ideal decision. On the other hand if you want to use decorative epoxy floor over old concrete it also not ideal decision. Because decorative epoxy flooring installation much depend on which purpose you use your floor.
3. Purpose of use:
Decorative epoxy flooring badly damage if you use this floor on high traffic area or heavy vehicle moving space. Decorative epoxy flooring only suitable for  medium or low traffic area. Decorative epoxy flooring installation cost little bit high than epoxy or Pu flooring. Decorative epoxy flooring not suitable for damp or wet area. It's not
completely waterproof
and fire resistance, require little bit special care. Vacuum beater bar , hard floor cleaner, too much dust and high traffic area badly damage decorative
epoxy flooring
.
Decorative epoxy flooring  require slightly care but this matter not make this floor less popular. Still now Decorative epoxy flooring  popularity  increase day after day.
Related Post: