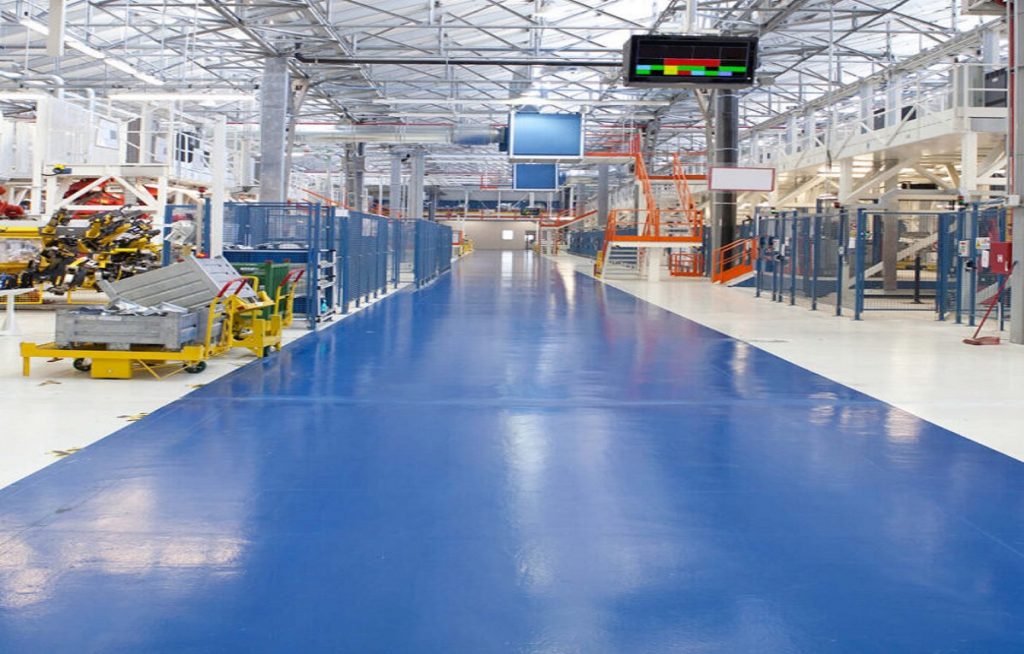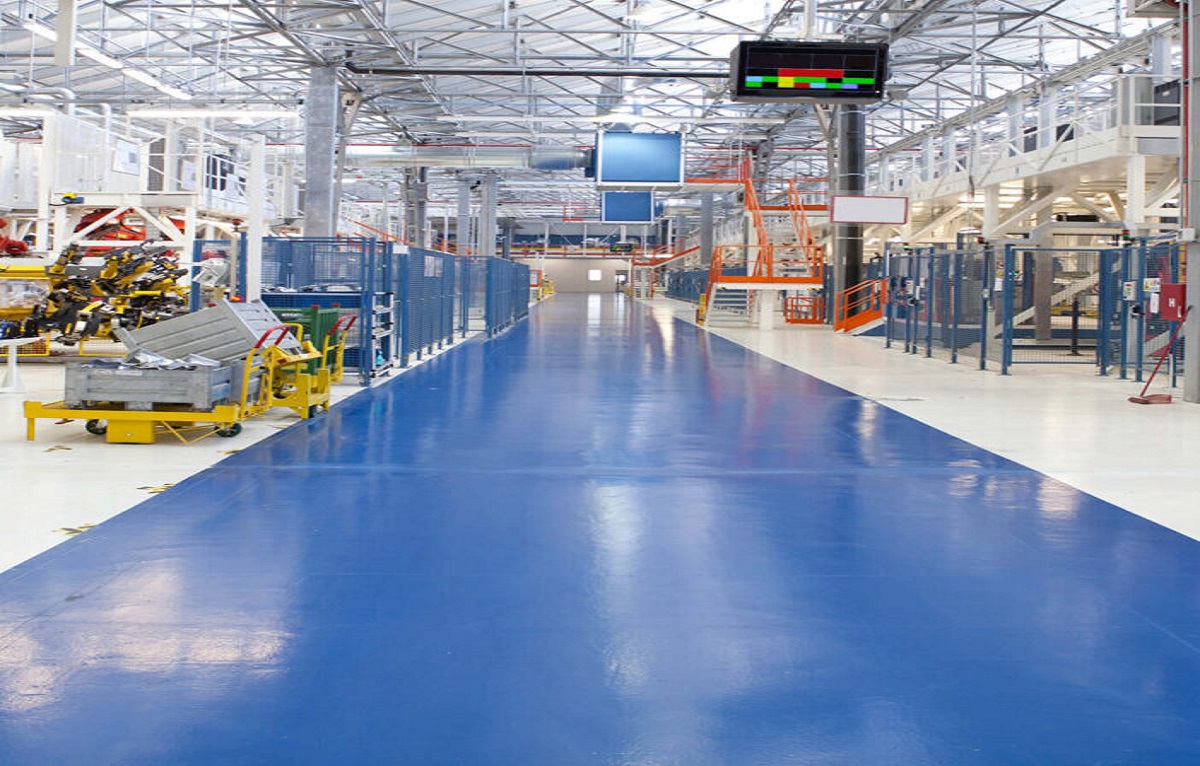 What Is Epoxy?
Epoxy is a layer of thick liquid chemical solution that apply on floor instead of tiles, floor finish, mosaic floor and ready concrete. After applying it's make a strong combination with surface and make floor more stronger than traditional floors. Different colors, long life durability and stunning loo
k make epoxy floor popular
day after day.
Epoxy Flooring In Bangladesh:
Epoxy Flooring is a liquid layer coating that changes your concrete surface in different colors. In epoxy flooring process two ingredient create bond this are gamboge and hardeners. When this mixed together it's turn into hard. While it's apply over concrete it's create a strong bond with concrete. Creative Buildingbd is the best epoxy flooring service provider in Bangladesh and complete lots of industrial epoxy floor with clients satisfaction. We also provide PU Floor, Floor Hardener, Vinyl flooring, Polished concrete and Waterproofing service all over Bangladesh. Epoxy Flooring uses rapidly increased in last few years in front of Bangladesh and also internationally. Epoxy floor mostly used in industrial area and high traffic area. Epoxy Floor is waterproof so that not damage for damping. It's easy to clean, maintain and not damage if heavy pallets trolley and forklift use through the floor.
Why Choose Epoxy Flooring?
Epoxy flooring select decision depends on owner of the company. But of anyone want to make floor non slippery, colorful, attractive, hygienic and strong epoxy flooring is the perfect choose. All of this benefits you get if apply epoxy over your concrete floor. On the other hand epoxy floor more strong than concrete floor. So that you may use epoxy floor on your home without hesitation. It's also more durable than concrete.
You May Visit:
Suggested applications area for epoxy flooring:
Epoxy flooring in Bangladesh mostly used in
business and residential purpose. It's not mandatory using such area but it's completely depends upon owner of the company. Here we discuss the suggested applications area for epoxy flooring.
Commercial Uses:
Epoxy floor make your commercial interior area fashionable and professional. For that reason it's useful not decay over year. You you want you can apply epoxy coat over your old concrete. Epoxy floor more strong than mosaic, tiles and other traditional floor. Also less cost and provide more strong surface than existing concrete surface.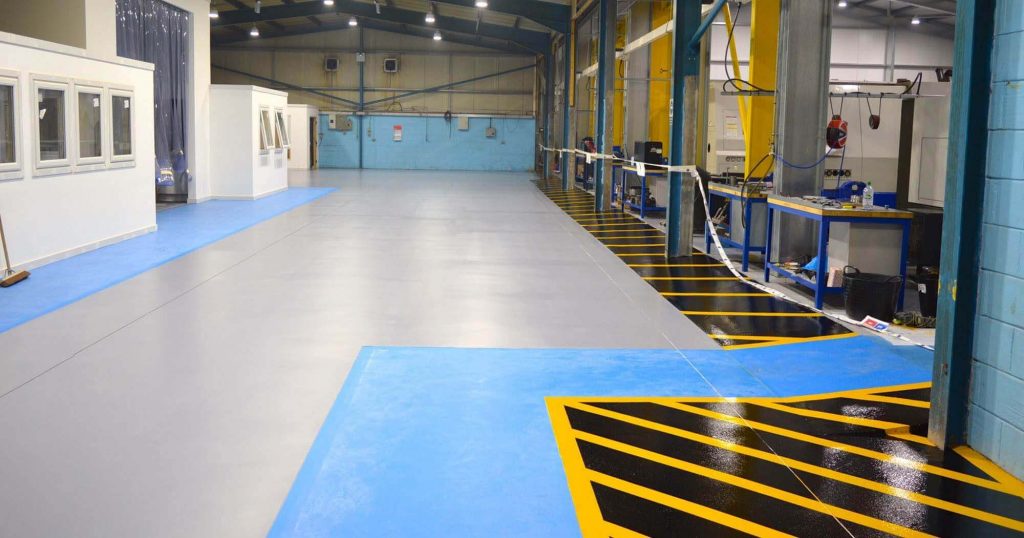 Epoxy flooring can be applied over both old and new concrete. It's make strong make with concrete fast and turn over hard within few hours. Suitable for any kind of commercial surface and also make user satisfy. Because of non slippery safe for wet surface.
Warehouses & industrial area:
Another mostly epoxy floor using area is warehouses & industrial area. Normally warehouse used for machinery storage. Fine dust comes from concrete floor and it's spread over whole warehouse. If dust entire into machinery it badly damage
machinery and looks old machinery. Dust also dangerous for health and may cause different disease. If heavy vehicle run over concrete floor it's damage floor concrete and sometime break out concrete. Avoiding such irritating condition you may use epoxy floor. Epoxy floor not damage if heavy vehicle move over floor.
Also healthy and hygienic for human health and storage product. It's also eco friendly and not create any bad impact over warehouse. Epoxy flooring not only better for commercial and warehouse surface. In Europe country epoxy floor massively used in pedestrian use, pallet storage, and heavy vehicle movement area. So that if you want you may use epoxy floor such area without any doubt.
Basements:
If you want to keep your basement dry and damp proof epoxy mày will be ideal choose for you. Normally basement is used for storage so that if it wet your storage product may damp. Because of hard it's also safe and better for heavy load storage product.
Concrete pore absorb water so that it's will damp in rainy day. Keep your basement product dry and hygienic always try to keep floor well-ventilated.
Types of popular Epoxy Flooring Products in Bangladesh:
Self-Leveling Epoxy (SLE) Flooring:
Self Leveling Epoxy (SLE) is the popular types of floor. It's can be applied over both old and new concrete. Variety of color self leveling epoxy available in market. So that you have option to select floor color of your necessary.
Self Leveling Epoxy Floor paint is attractive, strong, joint less, anti slippery and waterproofing. Some users apply this floor in fire resistant area.
Epoxy Mortar Flooring:
Epoxy mortar flooring used in heavy duty area and high foot step are. This type floor made of epoxy flooring products and graded quartz sand. Acid and chemical resistant floor so that suitable for pharmaceutical surface. Over old concrete area epoxy mortar can be applied.
Quartz Epoxy Flooring:
Quartz epoxy flooring consist of epoxy polymer resin and hardener with color quartz. Like other epoxy it's strong, hard, attractive and anti slippery. Different color quartz epoxy available in market. 
It's long life durable than any traditional floors.
Anti-Static Epoxy Flooring (ESD Resistant Flooring):
Electro-static charge (ESD) epoxy floor is rear used epoxy floor. For many reasons it's not suitable for industrial and residential area. It's extremely dangerous in many working environments. ESD floor made of conductive material so that use to reduce static hazards. ESD floor used in underground surface like drain and potential discharge.
Epoxy Flake Flooring:
Flake epoxy flooring quite different than normal epoxy floors. It's can be applied over old and new concrete floors. You can get from us different variety of colors, styles, textures, and sizes.
It's not only make your floor attractive and make your floor rough that protect you from sudden slip.
Color chart
High Build Epoxy Floor Paint Coating:
This types of floor suitable for high traffic area like hospital, food beverage factory. It's quite hygienic floor so that perfect for sensitive area.
This joint free epoxy floor thickness about 500 to 700 microns. With roller or spray this epoxy applied over floor.
3D Metallic Epoxy Flooring:
3D Metallic epoxy flooring is the most attractive flooring from any other floor. Different design, color and textured 3D metallic floor now available. 
We provide you any type of 3D metallic at an affordable price.
Where is used?
Epoxy floor most used in commercial space, hospital, garage and industrial area. Because of strong, glassy it's popularity increased.
Advantage of Epoxy flooring in Bangladesh:
Protective:
Epoxy floor save your floor from moisture. Due to heavy rain sometimes our interior walls or floor become damp. It's hampers our daily routine. Avoid such problem use epoxy coating on floor. Most of the epoxy coating is waterproof so that it's make obstruct against damp.
Attractive:
Epoxy floor more attractive than any other flooring system. You get different color epoxy floor in market. Long lasting: Epoxy floor durable and strong than traditional floors. If you are businessman you must know strong floors is much important in any company. You can epoxy floor more than 10 years without any renovation. Hygienic: Hygienic is another important facts in pharmacy, food processing factory and hospital. Epoxy floor much hygienic than traditional floor.
Affordable cost:
While you need to install your factory floor cost is the major factor. Because most of the factory size is huge. So that you need best quality floor with affordable price. In such situation you may use epoxy floor because it's price is affordable.
Maintaince:
Most of the people think it's need too much maintenance of epoxy floor. But it's absolutely wrong. Epoxy floor not too much like traditional floor. It's easy to remove any kind of stain from epoxy floor.
Strong:
Epoxy floor is ideal for heavy duty area. Most of the company used roller on surface.
Epoxy floor is the perfect
choice such area. Any type of heavy material not create scratch on surface.
High temp

erature r

esistance:
Epoxy is the High temperature resistance chemical. You can easily use epoxy floor in high temperature area without having any harm.
Cleaning:
It's easy to clean epoxy floor no require professional person. If you not know proper cleaning system just search youtube and you will get stunning clean idea.
Related Post: