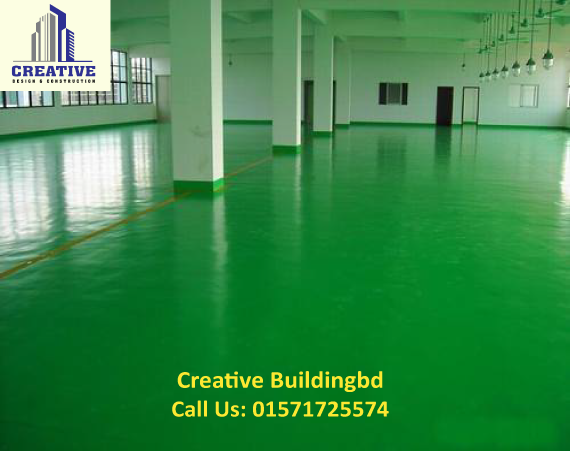 Pu industrial flooring is the combination of thermo setting polymer, mixing thermo setting polymer with contain pu flooring is made.PU Concrete industrial flooring become popular for long life durability, affordable price and suitable for high traffic area.Pu flooring mostly used in food, beverage, pharmaceutical, hospital,warehouse and chemical industries.
Because of long life durability pu industrial floor uses increasing day by day throughout the world.In Bangladesh Pu industrial flooring uses also increase.Pu floor first time used in  Europe and while user understand it's the specialty of pu flooring uses suddenly increased.
Uses of Pu Flooring In Bangladesh:
Pu flooring slightly similar with epoxy floor. It's much strong and durable than traditional floors. This can be construct over old or new concrete. But your floor is perfect for appyling pu coating or not it's depends upon your floor condition. Pu floor can be found in different colour and texture. If heavy vehicle moving over the floor not create any scratch. If you want to details about pu flooring feel free to contact with us.
Benefits of  Pu industrial flooring:
Strong:
 Pu industrial flooring is strong, durable and perfect for high traffic area. Some users said  if Pu industrial flooring is maintained properly it's give you service more than 15 years.
Make Perfect bonding:
After applying  Pu industrial floor make strong bonding within few hours.
Attractive:
 Pu industrial flooring attractive and colorful than traditional floor.
Waterproofing:
 Pu industrial flooring is porous and waterproofing so that suitable for any type of weather.
Hygiene:
Pu floor more Hygiene than traditional floor so that perfect for food factory, hospital and any kind of sensitive place.
Thermal shock resistance:
It has Thermal shock resistance that keep your product safe from high temperature.
Affordable price:
You can be applied this floor with affordable price and require less maintenance.
Eco friendly:
Eco friendly so that not crate any bad impact on environment.
Related Post: