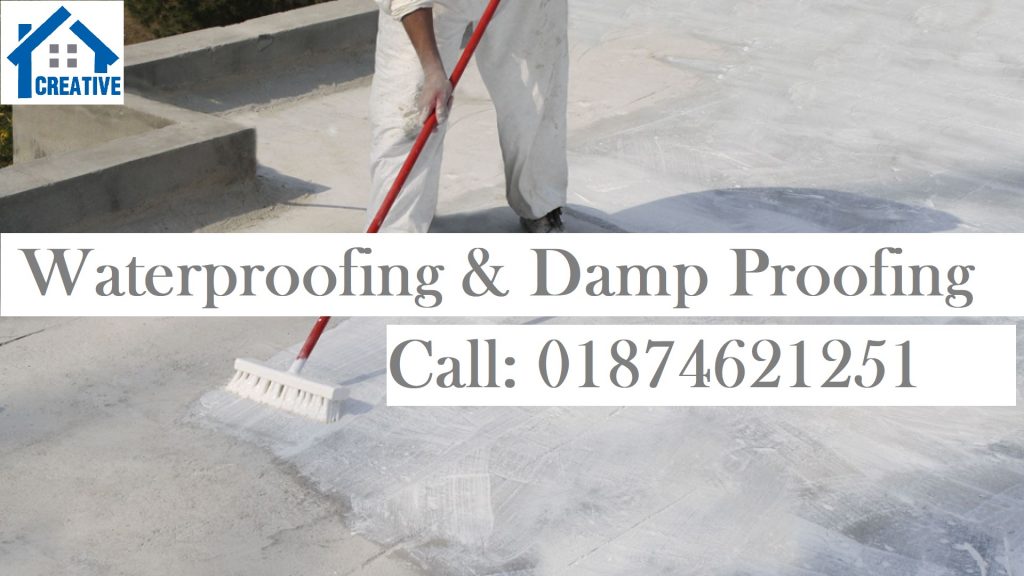 Best Wate

rp

roofing & Damp Proofing Company In Bangladesh
By using waterproofing method make an object, surface, or structure waterproof. Waterproofing is the easy and fast way make any object water resistant. Waterproofing chemicals mostly used in underwater construct because of keep structure dry from water.
Damp proof used to resistant water from damp area and roof. Comparing with our country weather condition damp proof mostly used in rainy season. Because this reason badly damp walls, roof if this area not protected properly.
On The other hand tar or pitch waterproof used in boat and ship bottom side. Sometimes used in
indoor swimming pool,  overhead tank.
May be everyone have dream to build their dream house. Sometimes after building home specific common problem create problems. Suddenly damp roof, walls are such specific problems. If you ever face such bad experience creativebuilding is with you. We slove your waterproofing problem within few hours. We have experience engineer and team member to slove your problem without an hassle.
Wha

t Is

Waterproofing?
Waterproofing is a process of making a object or building impervious to moisture or water-resistant . It can be achieved through materials, construction techniques or even paint. It helps reduce moisture or water damage from the ground. There are many different ways to to make an object waterproof. One way is to apply a waterproof coating. A coating is applied over damage surface to prevent water damage. Sometimes the structure is waterproofed with the help of materials that prevent water from entering. This is usually achieved by using drywall, concrete or stone. Waterproofing is also achieved by using techniques that are applied plaster or concrete. Waterproofing is also included in the process of sealing and filling cracks. A building can be designed to be waterproofed with an appropriate roof system, which has a waterproof membrane on top of the roof to protect the interior from moisture.
Types Of Waterproofing:
There are many different ways to waterproof a structure. These are some of the most common methods: 1. Cementitious waterproofing 2. Liquid waterproofing membrane 3. Bituminous coating waterproofing 4. Bituminous membrane waterproofing 5. Polyurethane liquid membrane 6. Injection Grouting Waterproofing 7. Polyurethane Liquid Membrane 8.EPDM Waterproofing Membrane
1. Cementitious waterproofing:
It is applied with cementitious material such as concrete or grout. This is an effective way to make a structure waterproof at very low cost. However this is only suitable for damp problems like seepage, toilets & areas not exposed to sunlight. It is not effective in preventing waterfall damage.
2. Liquid waterproofing membrane:
This is a waterproofing material that is applied with spray, roller, or trowel. It can be applied to metal, wood, concrete and masonry. It is a perfect choice for damp areas such as basements, attics and roofing materials. This is usually used in building improvement.
3. Bituminous coating waterproofing:
It is a thin coating on concrete and similar materials which is applied over the substrate with a brush or rollers, which gives it resilience and water resistance. This type of material does not give protection from internal dampness but does protect from external dampness like rain water seeping through mortar joint, woodwork and joints between the surface of wall and the roof. Bituminous coatings most used are under wet bolts and concrete foundations. But remember bituminous coating brittle when exposed to sunlight.
4. Bituminous membrane waterproofing:
Bituminous waterproofing used on low sloping roofs. Bituminous membranes are manufactured from bituminous material such as coal tar pitch or asphalt shingles, and , polymer. Apply outdoor development of construction site. This waterproofing membrane is applied on the outside of building; it is not waterproofed inside.
5. Polyurethane liquid membrane:
This type of material has help waterproofing building siding, roofs and other exposed surface materials. Waterproofing the surface area of wall, this waterproofing can be permanent or temporary. Once applied it must be handled with care to avoid damage to the material. It is waterproofed most commonly by spray and trowel.
6. Injection Grouting Waterproofing:
This waterproofing method is used to close up the joints in concrete structures. It will help in preventing water seepage into the concrete structures. This is a permanent and long lasting method of waterproofing basement floors or walls, and other parts of concrete structures that are made up of bricks, blocks or stone. The waterproofing is a bonding agent that is injected into the joints of existing concrete walls.
7. Polyurethane Liquid Membrane:
This is a coating that is applied over metal with a spray or roller. It can also be applied to metal with high thermal resistance and low porosity like aluminum. This type of waterproofing membrane has good water resistance, can be used in wet locations such as bathrooms, and anywhere where there are potential moisture problems such as roofs and basement floors.
8. EPDM Waterproofing Membrane:
EPDM is a rubber-like synthetic material with high elasticity and toughness. It is applied to tile, wood and masonry surfaces with a trowel or spray. The material can be used for both interior and exterior construction areas such as swimming pools, driveways, roofs and walls. This is non-porous material which means it will keep the water from penetrating through it .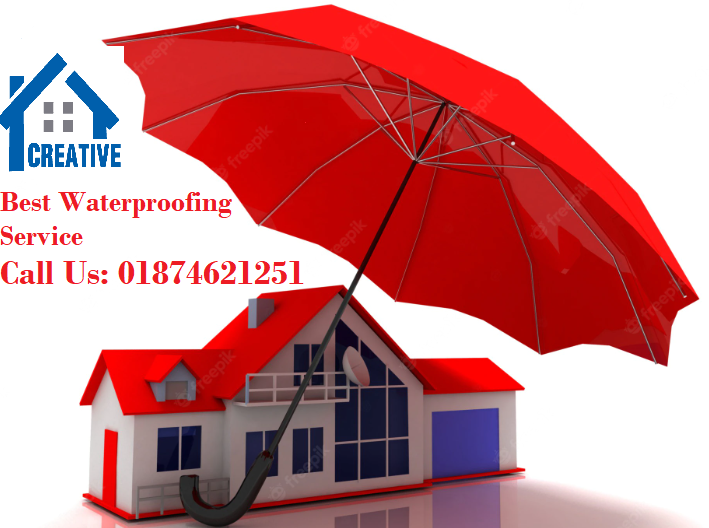 We Offer Also Bellow Waterproofing Coating
Elastromeric coating:
Elastromeric coating is the popular and most used waterproofing coating. It's the safe, durable and suitable for all types of structure.  Like paint and primer you can be applied this coating in any surface. Elastromeric coating is the perfect for damp area it's 6 times thicker than normal painting.
Silicone Sealant:
Silicone sealant  is the another popular waterproofing product mostly used over concrete. Silicone coating used in crack surface and joint of floors.  It's able to fill up 0.6 cm crack in any surface without any interruption. It's also used as adhesive substances.
Membrane Waterproofing:
Membrane coating popular and suitable for large construction uses. While need to construct  any structure under water use membrane waterproofing.
Advantage

s Of

Waterproofing:
Waterproofing is prevent to grow mold and mildew.
Stops water from coming in contact with the surfaces. Reduce water damage from plumbing leaks and prevent rotting of wood.
prevents seepages from the ceiling and walls
Prevent moisture damage to furniture or floorings placed inside the building.
Increases the life span of buildings.
Prevents the formation of cracks on the concrete floor.
The appliance is easy.
It will increase the lifetime of a solid construction.
It prevents corrosion of reinforcement.
Decrease the humidity of the room.
It can be used for construction industry such as roofing, garage, doors, etc.
It can used in swimming pools and small aquariums.
When Should You Use Waterproofing?
You should use waterproofing material when you have a leakage problem in a building. Waterproofing gives protection against moisture penetration. A lot of people are confuse what is waterproofing and what is not; there are some basic questions to ask before you decide to use waterproofing products.
I. Do you have a leakage problem?
Ask yourself if you are having a problem with the water of your pipes and sewers? If yes, then waterproofing is the proper solution. You can check out any building that is damaged because of flooding, moisture and irregular temperature.
II. Is your building already damaged by water?
You should also check it if you have already experienced problems with water. Waterproofing will prevent any additional damage on your building that might due to moisture penetration. After a flood, you might experience issues such as water damage, moss growth, and some types of corrosion.
III. Are you building located in places where door and windows are not open?
If there is no exposure to sunlight, using waterproofing will be really helpful to prevent mold from growing inside your house. One thing that will make a difference is that if you are keeping the doors and windows closed all the time.
IV. Is the place not exposed to dirt?
You should also think about what type of materials are being used in your house. If it is made up of wood or tile, you should consider the possibility of having mold and mildew growing there. Always keep in mind that quality and durability are important when it comes to waterproofing materials. You should note that different materials can be used with different types of buildings; you need to try out different types of products to get the best results.
What

Are

Characteristics Of Good Waterproofing Material?
A good waterproofing material must have some important characteristics to make your house watertight, such as:
Long lasting - the material should last for a long time; you wouldn't want to apply it again and again.

Easy application

- it should be easy to apply since you would need to do it yourself.

It shouldn't be hard to find or expensive

- you shouldn't spend too much of your money on waterproofing especially if you are a beginner at this kind of procedure.

Should be able to withstand rain, wind, and other elements

- it should withstand any type of weather that might happen at your place.

Does not stain the materials

- you don't want the material to stain your clothes or furniture when you accidentally splashed some water on them.

Should be easily washed

- it can be rinsed by water so you don't have to worry about stains, marks or damages it can cause on the surfaces where it is applied

Enough tough remove

- if you want to remove it, it should not easily come off.

It should not cause some allergic reactions

- there are products that can cause some allergic reactions to your skin or eyes and in this case waterproofing is not an option.

It should enhance the quality of the material you are using

- waterproofing is an extra help for the materials that you are using, so read the instructions carefully on how to apply it properly.

Should have the right color

- you don't want it to be overpowering or not blend with your design; you could use various colors to make it look better.
What Should You Do Before Waterproofing?
Check the area

- some areas of the house are more prone to leakage, so you need to check those areas first.

Determine the type of materials

- you should know the type of material that would work best for your house; there are various types of waterproofing materials in the market so you need to know which one will do best for your building.

Consider the design

- some waterproofing materials only work when you apply it on the walls, while others can be applied on corners, ceilings or other areas of the building.

Determine how many layers you need to apply

- how much layers will you need in your building? There are various types of waterproofing materials which come with different ways or foams and how thick they are; you also need to consider whether a stronger material is necessary or not.

Clean the area

- if there are stains, marks or damages in the wall, you need to make sure that is clean before you start applying materials.

Protect the stuff inside your house

- you have to protect your furniture and belongings against possible damages that might due to leakage problem; you can use old newspapers and plastic film to cover tables and chairs inside your house.

Cover window and doors with plastic film

- you should always cover the windows inside your house to avoid moisture coming from outside.

Avoid any activities that could cause damage to the building

- you should not do any activity that could cause damage to your building such as painting or other DIY projects.

Know the products you are using

- it is essential that you try out different types of waterproofing material and know how they work, so ask for help if this is your first time to apply a new material.

Check that the material you are using is suitable for your building

- some materials can be difficult to remove, while others are more suitable for different types of structures; always find out the best material and follow the instructions on how to use it properly.
How Long Should Waterproofing Last?
Waterproofing membranes should last at least ten years if you properly apply. If you are on a tight budget, you can choose to use the less expensive products that would last for only three or five years. The most expensive material tends to last longer than the less expensive one but it is also more expensive. It will cost you a lot of money at the start to use a least expensive material, but if you get it installed properly, it can last for up to a decade. A cheap alternative could be to buy a new building instead of repairing your current one which can be costly too. What you need to do is to keep your house waterproofed, no matter how many years it has gone. In order to effectively maintain the waterproofing material, you should use the right tools and materials to avoid causing damages. If you care about your home, then you should waterproof it because it would not only help you save money in repairs but it can also prevent health problems and damage. You can still have a wonderful life even if you are going through financial problems because there are various ways to earn money, but if you already have a house that is not waterproofed properly, it would not be able to withstand the elements anymore.
How Can Waterproofing Help Me?
It can help you enjoy a happy family life and avoid leaks that may cause damage to your furniture (paintings and decorations).
It can help you avoid having to hire a professional to do the repairs because you can do it yourself; you need to take care of it properly.
It can make your home look more attractive and modern with the design you have in mind, while giving your walls a protective layer that helps to ensure the protection of your property and your belongings inside.
Waterproofing can help you save on energy bills by reducing the amount of water loss from your house and this will lower the cost of heating and cooling.
Having to waterproof your home is an investment that you can live without and what makes it easier is if you hire a professional help with the services. Just make sure that you know how to choose the waterproofing material that will work best for your house, so ask for help from a friend or colleague if this is your first time to do it.
Related Post: